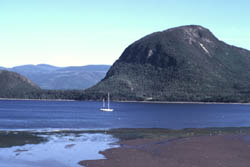 It's 100 miles from the tip of Cape Breton, Nova Scotia across Cabot Straits to Newfoundland. Our first crossing in 2000 was a beautiful sunny day, light winds, with a full moon that night as we crossed the Straits. After 30 hours and approximately 225 miles we anchored in Lark Harbor, just inside the Bay of Islands, about 1/3 way up the west coast. Our first impression of Newfoundland was that, notwithstanding the collapse of the cod fishery, the people seem very upbeat, houses kept very neat and tidy, and the appearance of not wanting for much. The Bay of Islands offers many good anchorages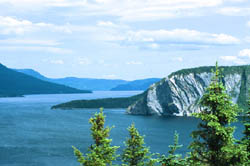 At the head of the Bay of Island, 10 miles up the fjord, is Newfoundland's second larges city. Corner Brook, a very pleasant mill town, just outside Gros Morne National Park and Marble Mountain, a downhill ski area. First surveyed and charted by the redoubtable Capt. James Cook in the 1760's, the bay is, as its name implies, a magnificent bay studded with islands. The good Captain must have grown short of creative place names, however, as we know of at least two other bays to which he applied that moniker, one in New Zealand, and yet another in Prince William Sound, Alaska. Nancy has now transited all three, so Mark may be compelled to try for the hat trick as well. Allen's Cove Yacht Club and Marina is just west of town, offers showers and laundry and is on a bus line. Most provisions can be found in town as well as restaurants and entertainment.
An 18 hour sail north of the Bay of Islands is Port au Choix, as it translates from the French, the port of choice. The finest natural harbor n the west coast of Newfoundland, it has been the site of human habitation for 5,500 years. From the first Maritime Archaic Indians, the Groswater Palaeoeskimos, the Dorset Palaeoeskimos, to Basque, French, and English whalers and fishermen, Port au Choix has been the source of shelter from the storms of the Straits of Belle Isle and marine resources for longer than just about any other place in the New World. A series of archaeological digs, and a very fine collection of artifacts are on display at the National Historic Site visitor's center.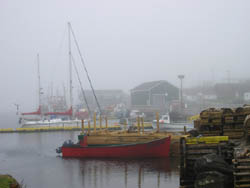 Fifty miles or so further up the Newfoundland coast is a very small harbor in a place called Black Duck. In 2001, on our return from Labrador, we sought shelter from the late season gales of the Straits of Belle Isle in Black Duck harbor. As soon as we made fast to the wharf, two elderly gentlemen made their way down the ramp, and asked to come aboard. In their eighties, these men had known each other their entire lives. They were middle aged when the first road connected their village to the rest of the island, and seldom had they ventured far from home except to fish "the Labrador". With the collapse of the Cod fishery in Newfoundland, fishing for the specie that had defined life on "The Rock" for five hundred years had now been restricted to but three days per season for personal use only. Notwithstanding their advanced age, these men were excitedly preparing to spend all of the next day together in a dory, jigging for cod, in the Straits of Belle Isle.
Our visitors' interest in Tamara was genuine, as well as extensive, as both men vividly recalled the time when schooners sailed north each season for the Cod. To them, we were very special, having just returned from Labrador aboard a sailing vessel. What I found touching was their deep friendship and complete reliance on one another. One gentleman was tall and hardy, with strong, work-hardened hands, but he could see and hear only very poorly. The other was much smaller, hunched over, able to get around only with great difficulty, but his eyes and ears were just fine, thank you! So this symbiotic pair worked as a team, with the sighted one doing the navigation, with the stronger man assisting his friend in getting around. Their respect for what we had done with Tamara was very gratifying, as these men knew where we had been and what it had required of us to do so. That is the best sort of professional recognition.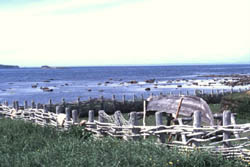 In the summer of 2000 L'Anse aux Meadows, on the very northern tip of Newfoundland, celebrated the 1,000th anniversary of Leif Erickson's arrival in North America. On July 28, 2000, the big Viking Feast day, the area of normally a couple hundred people was inundated with thousands of people. The area around L'Anse aux Meadows is slowly recovering from the collapse of the cod fishery, yet the people are very upbeat.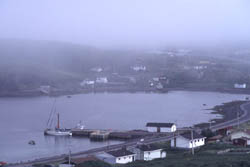 St. Anthony is a superb natural harbor on the northeastern tip of Newfoundland. It was in St. Anthony in 1893 that the famous Sir Wilfred Grenfell headquartered the medical mission that would serve northern Newfoundland and all of Labrador. First building the hospital in Battle Harbour in the previous year, Grenfell situated his base of operations in St.Anthony not only because of the need for medical care in that part of Newfoundland, but also because it was the perfect harbor in which to home port the succession of hospital ships that he would use to dispense medical care to remote locations to the north. While his work as a physician, organizer and fundraiser are legendary, our admiration for Grenfell is because of his skill as a master mariner.
Grenfell served not only as medical officer aboard the succession of vessels all named for their original benefactor, Lord Strathcona, but as Master as well. Making numerous voyages to Labrador over the years, constructing his own marine slipway in St. Anthony to service the ships, and participating in the Forbes-Grenfell Expedition to chart the entire Labrador coast in 1931, Sir Wilfred clearly, more than anything else, genuinely enjoyed messing about in boats.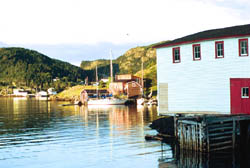 From St. Anthony we coasted along the northeast shore, calling at Englee, Baie Verte, and La Scie,before.stopping in Moreton's Harbour, a small, well-sheltered harbor that was once, as was most of Newfoundland, a cod fishing "outport" and home- port to Labrador bound schooners. When I say well sheltered, I should add sheltered from all winds but northerlies. At noon today the moderate southerly veered almost instantaneously to a gale force northerly. Tamara is presently lying behind a very small point of rocks that affords meager protection from the sea building from the north. She is made fast to a number of old iron ring bolts secured to the rocks, and I've been nervously tending the cat's cradle of lines that hold her in the lee of a small wharf and picturesque fishing gear shed.
The gear shed, ring bolts, and two small floats combine to form what is listed in the 2001 Travel Guide to Newfoundland and Labrador as the Moreton's Harbour Marina. A beautiful spot, complete with hot tub, showers and laundry, but a snug fit for a fifteen ton, forty-four footer. Things were perfectly cozy until the wind veered, and ratcheted up several notches. However I've been reassured by a delightful octogenarian, Gerry Knight, that those ring bolts should be good for about seventy knots.
The Knight family has been here for a very long time. As chandlers and outfitters for Labrador bound schooners, merchants, and schooner owners themselves, the Knights have seen these very bolts tested a time or two before, by more tonnage than Tamara's. I'll have to take his word, as there is no getting clear of here now without being set up on the other rocks that form the little marina. The Knight family offers this small haven mostly because they seem to genuinely enjoy the company of occasional cruisers who stumble upon the place. It couldn't be for the money, as the fee is only $10.00 Canadian (2001), by far the best bargain of our cruise, and typical of Newfoundland hospitality. Last evening the Knights were enjoying a family reunion of sorts, with family and friends visiting from across Canada. Nancy and I were included as though our names were also Knight, and we did our best to entertain with stories of Labrador.