Help Make Clean Water Available Worldwide
An issue that I feel very strongly about is the availability of clean water for everyone. Living on a boat, one becomes very aware of energy and water usage. If everyone experienced living in a situation with limited energy and water for a period of time, the world's environment would be in a much better state than it is today. On an extended backpacking trip my main concerns are "where is the next water source?" and "how much will I have to carry in between sources?"
So while hiking the trail from White Pass to the Columbia River, I decided to turn my PCT hike into a fund-raiser in support of clean water projects. I will do the miles in exchange for Pledges! I invite you to donate to a water project in either my name or your own name. To inspire me to complete the trail, please send me an email notifying me of your donation and your project choice.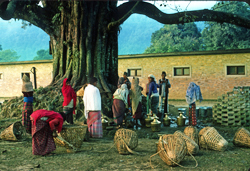 Here are some organizations to look into:
Water.org - For more then two decades, Water.org has been at the forefront of developing and delivering solutins to the water crisis. Founded by Gary White and Matt Damon, Water.org challenges the traditional approach by peoneering innovative, community-driven, and market-based solutions to ensure all people have access to safe water and sanitation; giving women hope, children health, and communities a future. read more ...
Global Water is based upon the belief that the lack ofaccess to safe drinking water is the primary cause of disease, hunger, and provery throughout the world. Founded in 1982, Global Water is an international, non-profit humanitarian organization focused on providing safe water supplies, sanitation facilities and related health programs for rural villagers in developing countries. Our program is designed to create safe water supplies in rural villages to enable the rural poor to help themselves. read more ...
is working at the inter-face between water, docietal, and human health disciplines to promote the production and sale of ceramic water filters for point-of-use water treatment. Ceramic filters are manufactured by combining clay, water and sawdust in appropriate proportions, pressing this mix into the shape of a 10-liter pot ... The filters can now be suspended in a 20-liter plastic receptacle and untreated water can be poured into the filter pot. read more ...
Kathy Pool for her donation to waterforcambodia.org
Bill Halstenrud for his donation to Water.org